Creating a winter garden
1. Build a Garden with Good Bones
Plan for all four seasons when you design your garden. This includes the addition of walls, fences, structures and plants that add three-dimensional appeal. Shaped shrubs and stately conifers add color, texture and shape. Man-made elements also can be dramatic. A garden bench nestled in evergreens or an obelisk, a twig trellis or concrete birdbath covered in snow is lovely to behold during winter's solitude.
Even if your garden lacks these elements, stay positive. As any gardener knows, winter weather hides a multitude of mistakes. With a fresh covering of snow, the best and the worst lawns can become equals overnight.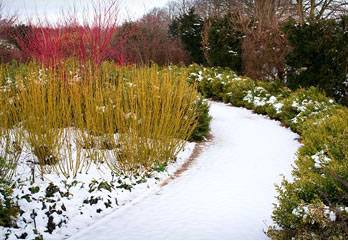 2. The Beauty of Bark
White on white is stunning, and no tree is lovelier than a white-barked birch. The paper birch (Betula papyrifera) derives its name from its chalky white bark that peels off in sheets like paper. River birch (B. nigra) is ideal for the winter garden because of its cinnamon flaking bark.
The red-twig and the yellow-twig dogwood are also winter favorites because of their brilliant colored stems in late autumn and winter. The color is most vibrant on younger stems, so ongoing pruning will help them to keep their brilliant tones.
Other trees with good winter color include the Japanese maple (Acer palmatum) and the paperbark maple (A. griseum). For interest, add an Amur corktree (Phellodendron amurense), which has unusual fissured bark.
3. Evergreens and Conifers for Greenery
Stately evergreens add hues of green, blue and yellow to a winter garden. The key is to plant one that fits its designated space. Fortunately, nowadays there are many shapes and sizes available. Tall firs, pines, spruces, cedars and yews all add winter interest. One large, weeping evergreen that stands out is Colorado blue spruce with its blue foliage.
Dwarf conifers are better for smaller gardens and mix well in a perennial bed. Shapes may be upright, mounding or pyramidal. Possibilities include dwarf Alberta spruce (Picea glauca var. albertiana 'Conica'), 'Fat Albert' blue spruce (Picea pungens 'Fat Albert'), 'Golden Mop' sawara cypress (Chamaecyparis pisifera 'Golden Mop') and dwarf mountain pine (Pinus mugo subsp. mugo).
4. Containers, Wreaths and Garden Art
The same container that held summer annuals can easily be replaced with an assortment of evergreen boughs, berries and twigs. Ornamental vegetables such as flowering kale, berries, dried flowers and grasses also can be incorporated. A big urn packed with soil and filled with boughs of blue spruce, juniper, pinecones and variegated holly covered in fresh snow, for instance, can be a cheery welcome at the front door. Winter urns and planters are best arranged after a hard frost but before the soil freezes.
(Remember that wreaths can be made using local supplies including cuttings and clippings from your own yard. Bring the outside in and use these same materials to decorate a table or mantel during the Christmas holidays.)
As for garden art, it can be fun and whimsical or stately and majestic. Just check to ensure materials are winter proof and that ice will not cause them to crack.
5. Grow Grasses
Grasses add a mysterious dimension to a winter garden. Many ornamental grasses just topple over with the weight of ice and snow. Others with more rigid stalks continue to stand straight, their seed heads blowing softly in the wind. One such popular grass is 'Karl Foerster' feather reed grass (Calamagrostis x acutiflora 'Karl Foerster'), with tall stalks that can be trimmed short come spring. It's not invasive and holds its shape well.
Other zone 4 favorites include 'Heavy Metal' blue switch grass (Panicum virgatum 'Heavy Metal'), with delicate, bluish-green foliage; giant silver grass (Miscanthus 'Giganteus'), a huge grass with corn-like stalks in winter; and flame grass (M. 'Purpurascens'), which turns from red to gold in winter.