Freezing Summer Favorites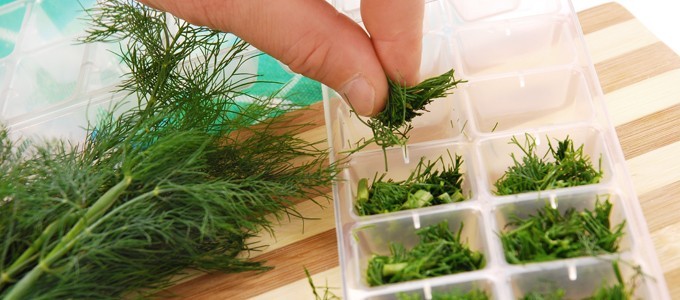 Tomatoes can be stewed or cooked down into sauce before freezing, but the easiest thing to do, when they are overflowing from the veggie patch, is to freeze them whole. Wash and core ripe, firm, un-bruised tomatoes of uniform size then place them, in a single layer, on a baking sheet in the freezer and leave until frozen solid. Once frozen, transfer them to freezer bags. To use for cooking, simply shower them with a spray of warm water to thaw and slide the skins off. Stuffed tomatoes can be prepped and baked in quantity and then frozen for later use; see recipe below. Gently washed herbs can also be freeze-dried on baking sheets, and then bagged for freezer storage. For herbs that you will likely add to sauces or soups, freeze them in ice cube trays. This can make for even more convenience later if you measure a set quantity, say one teaspoon, into each compartment of the tray. Fill the remaining space with water then freeze. When frozen solid, place the cubes into freezer bags or containers, being sure to note the quantity of herb per cube. For basil lovers, try making pesto and then freezing it - with 1 tablespoon per cube - no water needed. Pesto cubes, like the herb ice cubes, are perfect for tossing one or two at a time into soups for a burst of fresh flavor or for thawing in larger quantities for pasta or pizza topping.
Pesto
Ingredients
2 cups fresh basil leaves, packed

1/2 cup freshly grated Parmesan-Reggiano or Romano cheese

1/2 cup extra virgin olive oil

1/3 cup pine nuts or walnuts

3 medium sized garlic cloves, minced

Salt and freshly ground black pepper to taste
Directions: Combine the basil in with the pine nuts, pulse a few times in a food processor. (If you are using walnuts instead of pine nuts and they are not already chopped, pulse them a few times first, before adding the basil.) Add the garlic, pulse a few times more. Slowly add the olive oil in a constant stream while the food processor is on. Stop to scrape down the sides of the food processor with a rubber spatula. Add the grated cheese and pulse again until blended. Add a pinch of salt and freshly ground black pepper to taste.
Ricotta Basil Stuffed Tomatoes
Ingredients
8 large beefsteak tomatoes

2 large eggs

1 cup ricotta cheese

One-quarter cup finely chopped red onion

One-quarter cup chopped fresh basil

2 Tbsp, plus 4 tsp. grated parmesan cheese, divided

1 tsp minced garlic

1 cup corn kernels

1 cup diced zucchini
Directions
 1. Slice off tomato tops and scoop out pulp. Discard one half of the pulp then remove seeds from and finely chop remaining half.
2. Whisk together eggs and ricotta in medium bowl until smooth. Stir in onion, basil and 2 Tbsp of the parmesan, then corn, diced zucchini and tomato pulp.
3. Fill each tomato just to top with one-half cup of ricotta mix. Sprinkle each with one-half tsp of parmesan then add tomato top.
4. Bake 45 minutes in large baking dish, until filling puffs and tops are browned. Let stand 10 minutes before serving. To freeze: cool completely, then wrap in foil and plastic wrap before freezing. To reheat: thaw completely, then bake in pre-heated 350° F oven for 20 to 30 minutes until filling is hot.