Florists at Binley's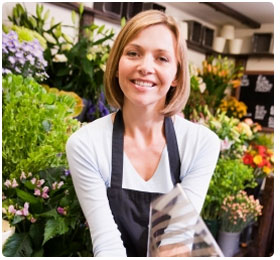 Florist at Binley's promises you exquisite floral designs using only the highest quality flowers and plants that you have grown to appreciate from Binley's.
Specializing in unique creations, our designers will help you celebrate any occasion in your life from weddings to holidays to everyday achievements.
We are able to personally prepare your floral piece for delivery anywhere in Adirondack Reagion, and as a FTD florist, we can have flowers delivered anywhere in the world. Telephone orders are accepted or you can order on-line.
For Your Home – When you work with fresh-cut flowers in your home, the possibilities are endless! It's like having an indoor garden year round! The Florist at Binley's are experts in bringing color indoors and can create fresh-cut arrangements for any area of your home. Brighten up your kitchen, living room, bedroom or have a custom designed wreath created for your front door with a matching potted arrangement for your foyer. Whatever your décor, we will be able to add some sunshine with our fresh-cut flowers. We will even change the arrangements for the seasons and holidays.
Funerals - We understand when you lose someone special. The Florist at Binley's will present you with professionalism and sympathy at your time of need. From a short conversation with you, we will create a tribute well deserving of the one you love and lost. Our staff offers beautiful time tested traditional funeral arrangements for the immediate family, close relatives, friends and business associates.
Weddings - Whether you are looking for fresh cut flowers to add fragrance to the room or silks that will last a lifetime, we will work with you to compliment your wedding colors and theme. Our expert staff understands the stress in planning a wedding and is ready to work with you to ensure that your flowers for that special day are the last of your worries.
Special Events - From creative centerpieces to elegant stage decorations, The Florist at Binley's adds that special touch.
Here Comes the Bride! For over 50 years, The Florist at Binley's have been making brides even more beautiful.
Gift Giving - Say "I love you", "Congratulations", "Happy Birthday" or just brighten someone's day with a fresh cut flower arrangement. Click here and see a sampling of what our designers can do.
Floral For The Home - From your dining room to your front door, The Florist at Binley's can create the perfect fresh cut arrangements for you. Click here for a sampling of our work.