Our History
Binley Florist Celebrates Over 115 Years in Glens Falls
Organized by Arthur Binley during the growing season of 1893, Binley Florist has now been providing flowers and plants to the Glens Falls & Queensbury area for over 115 years.
Binleys has been operated by only two families during its century of business. It was founded and got its start under the guidance of Arthur Binley, who came to Glens Falls from England in 1888 and later his son, also named Arthur Binley. The business later prospered and flourished for 63 years under the leadership of Alexander Hirsch.
Today, being operated by a second generation of the Hirsch family, Binleys has a traditional full service flower shop and a garden center at the intersection of Dix Ave and Quaker Rd. in Queensbury with extensive greenhouses and growing facilities.
In 1893 Arthur Binley purchased property located on Grant Ave and opened Binleys Florist with a retail shop in the first greenhouse. Binley grew flowers as well as vegetable plants to sell to local residents. In 1903 he built a second greenhouse and opened another retail flower shop. The shop was located in busy Bank Square at 115 Glen St.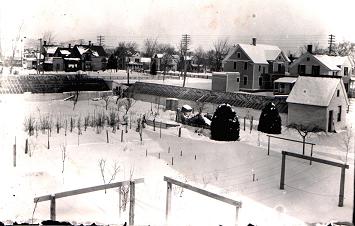 In 1928 he became one of the first small town florists to join the Florist Telegraph Delivery service, a membership that has continued ever since. Arthur Binley #1 died in 1930 and his son, Arthur Binley #2 took over the company.
In 1907, Alexander Hirsch was born in Budapest, Hungary. He was greatly influenced by his grandfather, Joseph Glass and his father, Joseph Hirsch, an Austrian. They operated a farm and a greenhouse in Budapest. The family grew vegetables and flowers, carnations, potted plants and other houseplants.
Alexander Hirsch wanted to make flowers and plants his life's work and the family sent him to horticulture college in Budapest. Following graduation, he served an apprenticeship in a large florist operation in Budapest and then in a large greenhouse in Berlin, Germany, where the main business was the growing orchids.
He returned to Budapest in 1929 to work in the family business, but spotted an advertisement for "educated florists" to work at the World's Fair in Chicago. He soon had obtained a passport and sailed to America, but never did get to Chicago. Once he arrived in New York City he was shown an ad in the Florist exchange magazine, which offered the then very large salary of $28 a week to persons with a European education and training. He took a job in the Albany suburb of Loudonville.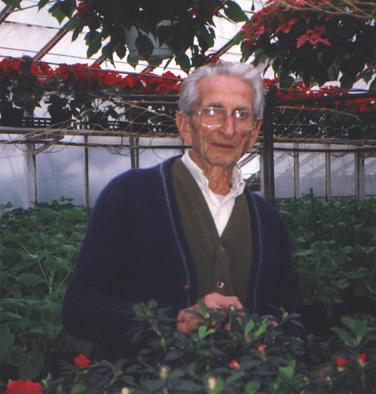 It was 1930 and the 27-year-old Hirsch soon attracted the attention of horticulture teachers from Cornell University. His techniques of growing flowers with "long day, short day" methods he had learned in Europe, his ability to fast grow buds and get quick blooms, especially with chrysanthemums, attracted great attention throughout the east.
In the fall of 1932 he took a trolley to Glens Falls and accepted a grower's position offered by Arthur Binley #2 and his career in Glens Falls was underway. Alexander Hirsch began growing flowers and putting his European techniques into practice at Binleys and soon the firm had to build him a large greenhouse as demand for his large, healthy blooms increased.
When the Easter season arrived in 1933 Hirsch organized and staged the first flower show in Glens Falls history. He featured hydrangeas, Easter lilies, daffodils and hyacinths. The show was a major success.
Returning to post war Glens Falls in 1945, Hirsch and Arthur Binley #2 incorporated the florist business. In 1946 they built more greenhouses. A year later, as the business grew, additional greenhouses were added to the ever-expanding complex on Grant Ave.
They began a wholesale flower business, growing plants for sale to florists throughout the northeast.
A new brick store, built in 1956, was placed next to the original wooden structure that had been on the property since the firm's founding. In 1961, Arthur Binley #2 died and Hirsch purchased his shares from the Binley family.
During the 1960's Binleys had become a very successful grower of potted plants. The firm was well known for its chrysanthemums, carnations and geraniums. Binleys was soon providing seasonal potted plants to the industry and still grew a great variety of cut followers for use in its store. The downtown store was closed in 1964 and retail operations were focused on the Grant Ave. shop.
Soon, another generation of the Hirsch family joined Binleys as Wally Hirsch studied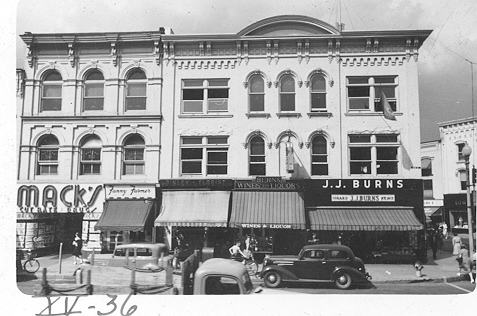 horticulture and floriculture at Cobleskill A & T and brought his training into the business in 1967.
Binleys had discovered it was in need of a nursery and garden shop. It had production and needed a place to sell its stock in the spring. So the company grew again in 1978 with the opening of Quaker Farms, a garden center, on the site of a former gas station on Dix Ave. at the intersection of Quaker Rd.
"We discovered early on in this business," Al Hirsch reminisced a few months before his death, "that as years go by people's tastes change. A flower or plant that is very popular in today's market won't be as popular in a few years so we try to follow the trends. People have become very plant and flower conscious. Everyone has plants and flowers in their office, their home and their stores."
During his long career, Al Hirsch left a mark on the region he called home. His skills helped design the gardens and grounds of many of the estates along Lake George. He designed and cared for the flowers of Storytown/The Great Escape for a quarter of a century and working with members of the Rotary Club he planned and planted the flower gardens in City Park.
Each spring the greenhouses of Binleys are filled with annuals and other flowers for the shop. "Spring is our busiest time," Al Hirsch noted. "Growing flowers is one of the most demanding occupations in the world," Hirsch noted. "You must be there, the flowers are as demanding as children and every flower, every plant has its own special needs and you have to be able to recognize those needs."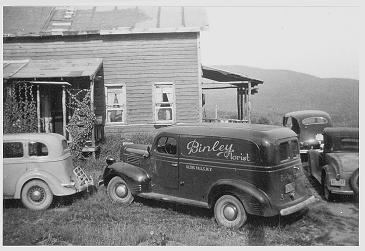 You can't plant them and let them grow," he pointed out. "You have to have them ready on time. We don't need the lilies to be ready the day after Easter or the poinsettias for New Year's. It is a lot of work and it takes time and loving care. Flowers know if you are interested in them." Hirsch pointed out the use of plants and flowers is now universal. "Flowers are food for the soul, and more and more people recognize the value of growing things at their homes and at their work." His philosophy continues to guide Binleys' staff to this day.
Hirsch worked in the Binley greenhouses up to the month before he died. At 85 he said he still couldn't wait for the morning to get to the greenhouses to "work in this demanding business."
Today Binleys continues into its second century with Wally Hirsch operating the corporation. A staff, that over the years contained many summer workers who are now area attorneys, doctors and successful business people, is today anchored buy experienced and well trained employees.
Binley Florist continues to be a traditional full service flower shop. "We frequently have customers tell us" Wally Hirsch notes, "they got their first flowers from Binleys, a corsage for a prom. We still do all the traditional work, preparing flowers for weddings, proms, funerals, holidays, business openings and celebrations. We like to feel we do more than just provide flowers, we provide emotion, feeling, care, with quality service with a quality product."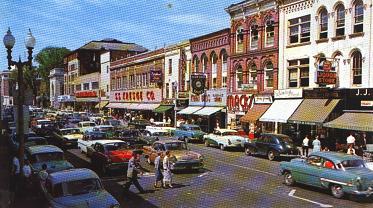 Hirsch said while Binleys has to keep up with changes in the flower business it maintains the quality and service standards the firm has established over its 115 plus years of doing business in the Glens Falls area. "We still grow as much of the product as possible so we can control quality. We operate on about 7 1/3 acres and have nearly two acres under cover, we now grow year round in our greenhouses and have another acre of hardy mums outside."
He points out arrangements for Binley customers are made to order, in the shop by highly skilled professional florists who have dedicated their careers to providing quality flowers to area customers. "We are able to customize each order," Hirsch pointed out. "Our arrangements are not mass produced and trucked in from out of state. We try to make every arrangement special for each customer, from prom corsages to major commercial arrangements."
Hirsch said we also strive to carry on the rich tradition of Binleys century in the growing business. We grow as much as possible and to maintain quality; we even visit the growers who provides with foliage plants from Florida to inspect all products being sent to us."