Other Fall Bulbs to Brighten Your Spring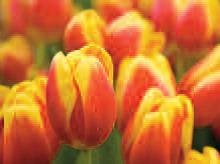 The chill of Winter finally begins to subside. After months of gray skies, sunlight slowly begins to warm the earth. Your heart warms too, because the bulbs you planted last Fall are just starting to emerge. At least, that's what ought to happen. And why shouldn't it? Bulbs are so easy to plant, and so worthwhile when they bloom. What are you waiting for? Get inspired by our favorites and get started by following a few simple steps. How many times have you heard the phrase, "so easy, ANYONE can do it"? Well, add one more to the total, because planting Fall bulbs really is that easy. And seeing them come up in the Spring is pretty hard to beat. There are just a few basics to keep in mind before getting started; plus, we have a few favorite bulb suggestions for your consideration.
3 Bulbs That Turn Us On
Let's Go Dutch – Iris, That is. Dutch Irises are a favorite because they are just so dependable. Flower petals luxuriously drape over their sides, and the blooms come in a wide variety of intense colors.
Darwin Hybrid Tulip is a Natural Selection. It's a very large tulip with the classic shape that comes to mind when you think of tulips. Most are reddish-orange, but you can also find them in pink, yellow and white.
Crocus Pocus. Almost like magic, these lovely little perennials (2-4 inches tall) are always among the first signs of spring. Crocuses come in many colors – red, orange, pink, purple and more. A side benefit: pesky critters don't seem to attack them.