Harvard Study: Flowers Boost Morning Mood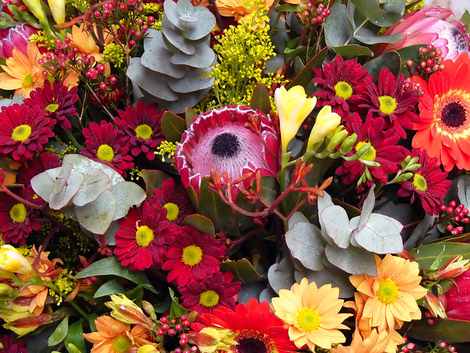 Start the day right! Recent research confirms that flowers might be the perfect pick-me-up for millions of Americans who do not consider themselves "morning people." Participants of a behavioral study conducted by researchers at Harvard University and Massachusetts General Hospital confirmed that they feel least positive in the early hours but reported being happier and more energetic after looking at flowers first thing in the morning.
"The morning blahs, it turns out, is a real phenomenon, with positive moods - happiness, friendliness and warmth, for example - manifesting much later in the day," says lead researcher Nancy Etcoff, Ph.D. "Interestingly, when we placed a small bouquet of flowers into their morning routines, people perked up." New York City floral and garden designer Rebecca Cole, host of Discovery Channel's Surprise by Design, is not surprised by these findings.
Cole suggests the following tips for experimenting with color to trying new, dramatic styles to the creative use of containers.
Cut flower stems short and place flowers in interesting or everyday kitchen containers such as tea tins, jelly jars, salt and pepper shakers or even pretty wine glasses. Pick something to match your personal style.
For example, try red and purple stems in grouped vases. Or, use monochromatic flowers, from one color family, to create a simple, pleasing effect.
Play off of accent colors in your kitchen to bring a splash of color with flowers. Look around and match flowers to decorative wall plates, place mats or curtains to pull out key accent colors.
Inspire neatness. Place flowers where kitchen clutter typically congregates to prevent future messes from settling there.

"What could be simpler than bringing home a few blooms to brighten your kitchen table and your mood?" says Cole. "Experiment, design and smile."