Beat Winter Blues With A Burst of Flowers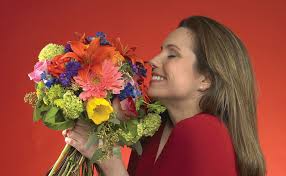 Don't let cool weather get you down: Brighten your day with fresh flowers. A behavioral research study conducted by Nancy Etcoff, Ph.D., of Massachusetts General Hospital and Harvard Medical School, reveals that people feel more compassionate toward others, have less worry and anxiety, and feel less depressed when fresh flowers are present in the home.
"Other research has proven that flowers make people happy when they receive them," Etcoff says. "What we didn't know is that spending a few days with flowers in the home can affect a wide variety of feelings." Rebecca Cole is the author of "Flower Power" and co-host of Discovery Channel's "Surprise by Design." "The Harvard research is proof that if we live in places that lift our spirits, we can live happier, healthier lives," Cole says. "Fresh flowers are the perfect everyday accessory for any budget – they add color, fragrance and style – and now we know they even increase energy and compassion."
Study participants reported the greatest mood-boosting effects when fresh flowers were placed in common areas of the home such as the kitchen, dining room and family room. Cole's ideas for incorporating flowers into these areas include:
Place bud vases in high traffic home areas – with even just a few flowers. Any decorative glass from the kitchen will do!
The kitchen table might be the best place for flowers, because it's where people gather together. Stop by a florist where you'll find a wide selection of flowers from which to choose.
For an easy, elegant table decoration, set a series of crystal vases on a fabric runner. Place fresh flowers in each of the vases and surround them with greenery.
What's the take-away lesson from this research? Don't wait for someone to send you flowers, every so often, stop on your way home and treat yourself to a burst of sunshine!