Double Your Roses by Feeding and Deadheading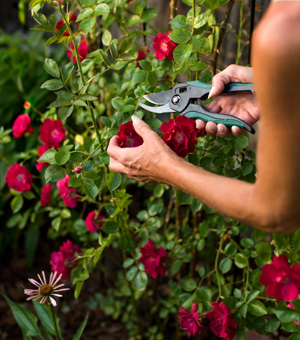 Is there anything better than walking into your garden, smelling the heavenly scent of a rose and seeing a luscious rose bloom?
Believe it or not, we think there is! More roses!
Once your roses start blooming, all you want is for more roses to grow, too! Stack the odds in your favor by feeding and deadheading your roses now.
Give Your Roses an Energy Boost!
To create those gorgeous, lovely rose blooms, roses need lots of energy! You don't think those beautiful blooms just happen, do you?
Ohm. Find the Right Balance. Roses need a balanced, organic fertilizer made specifically for roses. A balanced food with the same amounts of NPK (nitrogen, phosphorus and potassium) keeps the roots, flowers and foliage growing strong and healthy.
Do as the Experts Do. Don't the experts always know best? That's what it seems like from those toothpaste commercials at least! The same is true in the garden. Rose-tone by Espoma, an organic plant food, is preferred by professional rose-growers. Follow their lead to grow bigger, better roses! Dare we say, prizewinning?
The 30 Day Phase. Feed your roses once a month during the growing season. When you use a slow-release, organic fertilizer, your roses have enough to eat for 30 days. After that, they've consumed all the soil's nutrients and need their energy source replenished. If the soil is dry, make sure you water roses heavily before feeding them. Find out more here.
Look Dead? Off with their Head. Anyone who grows roses knows the value of deadheading. Roses will bloom all season if you remove spent flowers. Otherwise, the roses focus on seeding – not flowering. Plus, deadheading is easy! With pruners, simply cut dead roses just below the flower to the first set of leaves. Leave the leaves though, since these help plants grow strong. During drought, deadheading also reduces the plants need for water, increasing its chance of surviving this dry spell.
Don't stop there. Continue to deadhead roses until late August. This will allow the rose to form the important seed bearing hips it needs to produce even more flowers next spring!
Soon, roses will be coming up every which way! Go forth and create big, beautiful blooms with your newfound knowledge.