Fall Garden Cleanup Tips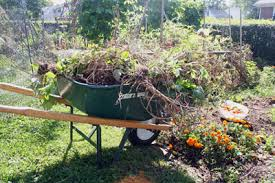 As gardeners, we never want the gardening season to come to an end. But, we must welcome the coming cold months by preparing our gardens for winter. Follow the tips below for a few good basic steps in preparing your beloved garden for the coming chill:
Dig up tender bulbs (dalhias, cannas, etc.) for storage until next year
As perennials quit blooming or die back, trim the dead foliage. You can compost the healthy trimmings to continue the cycle of nature.
But, some perennials, if left alone, look great as winter interest and/or provide winter food for wildlife.
Clean away any and all diseased plants and dropped leaves.  It will make next year's gardening that much easier.
If you live in an area with cold winters but not much snow as protection, mulching in the fall will protect your plant investments.
Vegetable gardens are best completely cleared up to prevent any disease or pest overwintering.
Move your indoor foliage plants back inside before even the first light frost.
And, don't forget your gardening tools.  A thorough cleaning and sharpening now will save valuable time next spring.

 
Weeding In the Fall
Weeds are tough plants – the roaches of the plant kingdom. They produce thousands of seeds and they have a germination period that lasts for months giving parents plants an opportunity to produce multiple batches of viable seed. They plants are abnormally cold tolerant- but the seeds are even more so, tolerating long cold winters and popping up all over your yard the next spring. Many weed seeds can stay buried underground for decades and still germinate if the conditions become favorable. So the Fall is a great time to pull or cultivate weeds before they have a chance to go to seed and flower again. Remember weeds are hosts to many insects and diseases so it is important to keep them under control. 
Clean-up time for veggie gardens
Once your vegetables have been hit by frost, production usually comes to a halt. This means tomatoes, peppers, cukes, and other warm-season varieties. Some vegetables, like Brussels sprouts, actually become more flavorful with a few low temps, and cabbages, kales and some lettuces enjoy the chill as well. But winter in many parts of the country takes hold eventually, and cleanup time begins.
Once we have the first frost, it's time to think about the necessary vegetable garden cleanup to ensure the next growing season is just as successful.
One of the first steps to take is to record your garden's layout; knowing what you planted this season and where helps out a lot during the next growing season. Natural crop rotation helps control possible diseases and increases soil nutrition.

Next, clear away any damaged or diseased plants. Bacteria in these plants can fester over winter in the soil and contaminate next year's plants. Send diseased material off-site with the rest of your landscape disposal. Leftover healthy plant material that has died after the frost can be safely composted.

To reduce the risk of early blight, remove tomato plants (roots and all). Dead foliage and vines should also be cleared away to discourage squash bugs, cucumber beetles, rodents, and others pests from thriving over winter.

Store cages, trellises, containers and other garden items outdoors. In the spring, give them a quick cleansing using a 10% bleach solution.

After all the plants and garden items are removed, roughly turn over the soil. This can eliminate microorganisms through the decomposition process over winter. No need to smooth the surface of your garden when you're through; the freeze/thaw cycle of winter can improve your soil's texture for next year.
Cleaning Flower Beds
Take advantage of the cooler climate of October and November. Clean up your flower beds  to prepare for next spring.  Remove all of the dead leaves and loose plant material from your garden, all of this material can be recycled in your compost bin.  Your garden will now be neat and clean through the cooler months, and ready to go next spring. 
Taking these steps now will make next year's success even easier!