Looking Ahead to this Year's Garden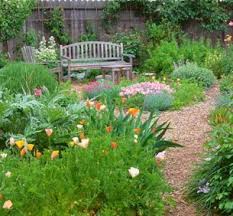 Hopefully, Spring is on the way and winter is retreating, so this is the perfect time to start planning and rethinking your garden. Garden landscaping is the process of making the garden more attractive by adding trees, flowers, and other special features. The fun part of gardening is being able to change and modify as you go. When you finish the season in the fall I recommend making notes as to what worked and what didn't and any new ideas that you may have seen. If not, you can work from memory.
Here are some ideas for garden landscaping.
1. Use Colors Effectively - A proper dash of colors can make all the difference in your garden. Instead of using drab flowers, add colorful flowers that catch the viewer's attention. The use of colors like red, yellow, blue and pink will make your home look bright and inviting.
2. Utilize The Space Effectively - An organized and planned garden is more appealing than a haphazard, unkempt one. Usually, there is only a limited amount of space that is available for gardening, so make sure that you use it efficiently. It's important to look over the entire garden as a whole, in order to make your garden look lively and well decorated.
3. Add Variety - A balanced mix of a variety of both perennial and annual flowers, plus trees, and plants is much more appealing than a single item that fills up the entire garden space. Variety not only makes your garden stand out, but also breaks the monotony of having to look at the same thing again and again.
4. Create A View - Gardening can be a way for you to express yourself creatively. A garden look that compliments your house is an interesting choice. For example, if you own a spanish-style open home, you can create a garden that has a wooden arch that leads into it, with lots of greenery all around.
5. Add A Unique Sitting Place - Sometimes you just want to take a book to your backyard and read amidst the natural surroundings. If you have enough space, you can add a gazebo, which is basically a small, open parlor, in your backyard. It will add a unique flavor to your garden.
6. Use A Focal Point - Too many flashy decorations distract from the overall beauty of the garden. Instead of placing many eye-catching objects in your garden, like a bird-bath or garden ornaments, focus on a single garden item and build your garden around it. This will accentuate the beauty of the garden, without overpowering its overall essence.
7. Create A Comfortable Space - Sometimes people overdo their garden with high-end decorations, such that it even appears cluttered and messy. Before buying equipment for the garden, make a detailed plan of where you will put everything. As people tend to spend a lot of time in gardens, ensure that you have comfortable seating options as well.
I hope this will get you excited to get started. Remember, gardening is eveloution, so it doesn't have to be done all at once. With these 7 garden landscaping tips and tricks, your garden is sure to be a place that is perfect for relaxing and rejuvenating.