Top 10 foolproof plants for kids to grow this summer from Birds And Blooms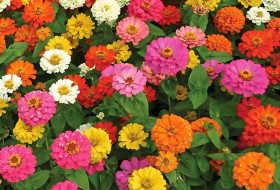 The editor of Birds & Blooms has been gardening with her children for years and now has a list of the top 10 foolproof plants for kids to grow. Consider stocking these perfect plants for kids this summer:
1. Shasta Daisies: Ah, it's the classic daisy! Birds and Blooms recommends customers ask local garden centers to recommend some new varieties just made for a sunny spot in their backyard.
2. Milkweed: Kids are never too young to learn about the importance of milkweed and other host plants. Monarch butterflies lay their eggs on milkweed each year because it's the only food their caterpillars can consume.
3. Nasturtiums: Don't let sunflowers and zinnias steal all the thunder: Nasturtiums are ideal annuals to start from seed, too. This spicy-scented flower does best with no care at all, blooming from spring through frost.
4. Petunias: Petunias seem to get better and better. They come in pretty much every color you can imagine, and they're so low-maintenance you can put them in a container and forget about them for a few days.
5. Elephant's Ear: The giant leaves have a big name to live up to, and they certainly do. The leaves get up to 3 feet long, and they're a good choice for shady areas.
6. Hens-and-chicks: Some people say the only way to kill this succulent is by being too generous with water — a good problem to have when kids are involved.
7. Zinnias: All kids need is a sunny spot, and a pack of zinnia seeds will go a long way. Like sunflowers, they come in dozens of varieties. Use this opportunity to give kids full control — let them read about each plant type and then decide which one they want to try.
8. Sunflowers: Sunflowers are probably the most traditional seeds to give kids. They germinate so easily, parents can have kids start the seeds indoors to see how fast they sprout, then move seedlings out to the garden.
9. Purple coneflowers: Purple coneflowers are a staple across the country for a good reason. While the newer coneflower varieties come in a rainbow of hues, they don't always come back as reliably as the purple coneflower.
10. Lambs' Ears: Lambs' Ears often fly under the radar, but they're a wonderful addition to any garden. Tolerating sun, shade and even drought, they're very forgiving. Plus they bloom from early summer to frost, so you can enjoy them for months.