Does it seem like your houseplants look "sick and tired"? Sooner or later, your houseplant will surely come the day when it has outgrown its starter pot. The roots will be tangled. It is especially wise to check in on your potted plants at winter's end when the promise of vernal sun brings on hardy growth spurts, and your ready-to-burst houseplant begs for roomier real estate.
When to Repot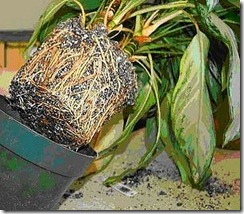 Over time, your plants' soil loses essential nutrients and the ability to hold water. While the soil is depleting, the plant's' roots continue to grow, taking up more and more space in the pot. Soon, the plant becomes "root-bound" (or "pot-bound.") This combination of factors inevitably leads to a sick plant.
Here are a few telltale signs it's time to repot:
The plant is "root-bound" (roots wind around inside of pot or poke out drainage holes).
The plant is deformed or top-heavy.
You notice the appearance of brown, unhealthy roots at the bottom of the root ball.
The bottom leaves turn yellow and drop off or leaves are pale and dull.
The plant wilts between normal watering.
Water drains quickly through the soil.
Read more: How to Repot House Plants