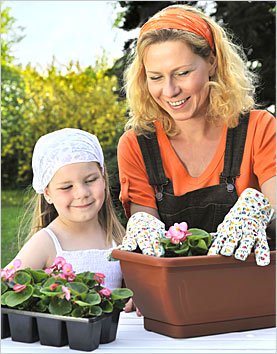 5 Reasons to Start Seeds Indoors
Save money — seeds are less expensive than plants.
Choose from an almost endless variety.
Enjoy vegetables earlier.
It is a fun project to do with your kids!
There is great satisfaction of starting from seeds.
11 Tips to Seed Starting Success
Start seeds 4 to 6 weeks before you plant in the garden.  Cool season crops like broccoli or lettuce can go into the garden before the last frost.  Warm season crops like tomatoes & peppers should not be planted until all danger of frost is past.  Almost anyone can succeed by following the guidelines below.
Fresh is best. Always start with fresh, high quality seeds.
Plastic is fantastic. You can purchase plastic trays and kits designed specifically for starting seeds. They're clean and free of pathogens, keep soil uniformly moist and allow for adequate drainage.
Read more: Starting Seeds Indoors